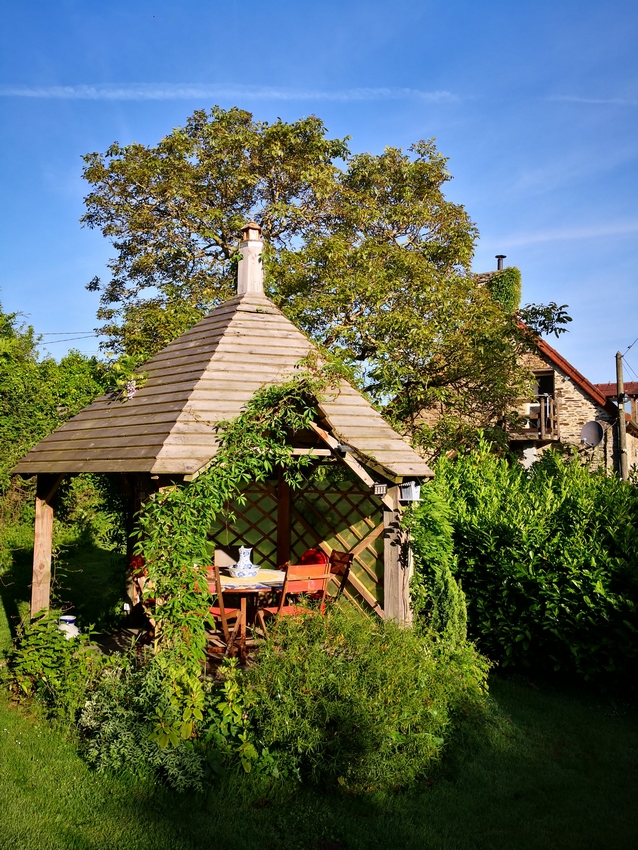 General info
Our Grenier (attic) is a luxury apartment on the first floor of the main house, which sleeps 2 to 4 people. This holiday home has a romantic atmosphere, because of the beautiful ancient wooden beams that support the ceiling and the cozy interior. This gite has a 4-person family bedroom with 2 double beds. A sofabed in the living room has two extra beds, just in case.
The Grenier is a lovely and spacious area, where live is wonderful, even if the weather is slightly off! The apartment is well isolated, which keeps it cool on hot days, and easily heatable in wintertimes. The two roof windows, and the dormer can be opened. The roof window in the living room has a roller shade that shuts out the light so at night the room is pitch dark.
The apartment is fully equiped, with a TV screen with HDMI port, a DVD player, a Video player, CDs, DVDs, books and games. Furthermore, there is free Wifi everywhere.
Location
The Grenier is located on the top floor of the main house (surface: 12 x 5 meter), and has a nice view over the hills that lead to the Forest of Cerisy-la-Fôret. Guests have a private entrance on the side of the house (stairs). The building is situated right next to the gardens inside the old castle walls (2,500 sqm).
The Gazebo is at your disposal for tea or drinks, as is the Man Cave.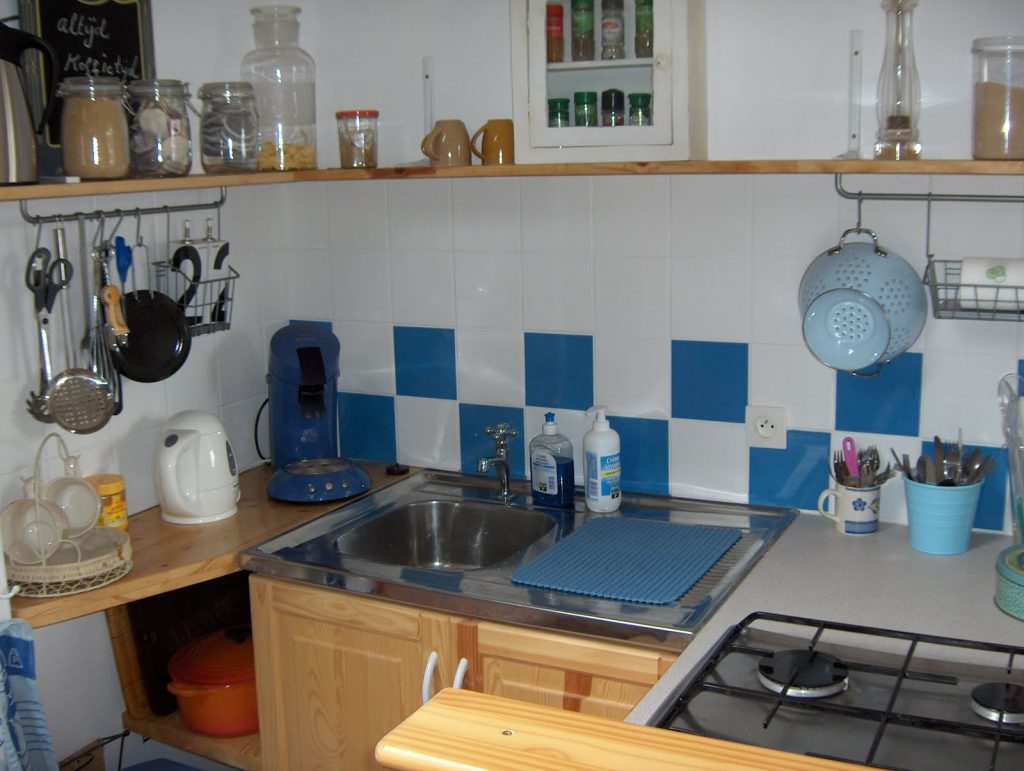 Bedroom
The Grenier is accessible through the family bedroom, in which you will find two double beds. One bed has two separate matrasses with a total surface of 1,60 x 2,00 m. and one double bed with a size of 1,40 x 2,00 m., incl. pillows, duvets and bed linens. In the bedroom is a cupboard for hanging and laying clothes, and a roof window that can be opened.
Living room / dining table
The living room has an attractive seating area and a 6-person dining table. In the living area there is a 2.5-person red leather sofa and a 2-person (sleeping) couch (1.40 m wide). There are also 2 separate wicker chairs, a coffee table and a corner table with table lamp. You will also find a fitted sideboard, an additional china cabinet, a dresser with drawers and shelves. The TV screen is connected to a DvD player, and there is a stereo installation with radio and CD player. Along the walls are bookcases with books, DvDs; there is a list of more than 280 films available. The gite has electric heating. You have free Wi-Fi on the entire terrain.
Bathroom
The bathroom is freshly tiled in Norman blue / white and has a half-round shower cubicle, a sink, a mirror, and a toilet. You get a basic supply of toilet paper and more than enough towels and beach towels. The bathroom has its own roof window for extra ventilation and electric heating.
Kitchen
The kitchen is tiled in Normandy blue and white and fully furnished with a 4-burner gas set, and a Senseo / Nespresso or filter coffee machine. There are more than enough crockery, pans, dishes and cutlery, an oven and a kettle. Moreover, we provide a starting stock of water, coffee, tea and sugar.
Extras
Household items such as basic supplies of toilet paper, garbage bags, storage boxes, cleaning products, vacuum cleaner, Monopoly, scrabble, various puzzles and other games.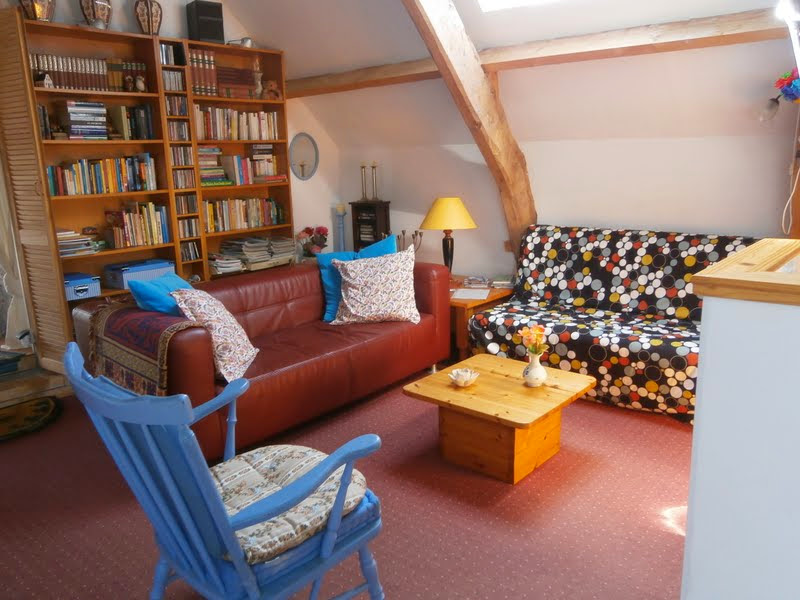 Rent Le Grenier (all-in)
€ 450,- per week on the basis of 2 guests, including gas, light, water, use of bed and bath linen and Wifi. Dogs allowed at € 10 per dog per week.
From November to April we charge you €500,- per week on the basis of 2 guests, due to higher heating costs.

If (older) children wish to sleep apart from their parents, they can use the Hiker's Cabin (25 euro supplement), if available.
Cleaning
We expect you to leave the Grenier as clean as you found it. We provide all the necessary equipment. If you wish, we can clean your holiday home, in which case we will charge you a cleaning fee.
Would you like more information or do you want to book this cottage, please click here.